Why we are the Best Mobile Mechanic in Glendale AZ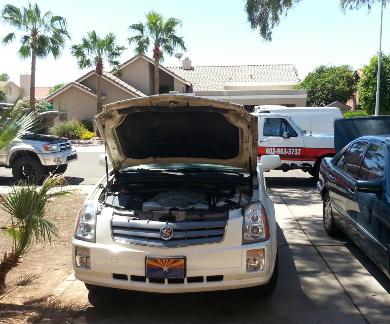 If you are looking for a mobile mechanic that comes to you in Glendale, AZ we are the best company to offer everything you need. We provide high quality services to help you with most car problems where ever your vehicle is parked. Our company has highly qualified technicians a fleet of service vans to ensure we can get to you quickly. We have remained the perfect choice for clients in Glendale because of the way we treat our customers and the quality of work we offer.
High quality service at affordable cost
Our car repair technicians are highly qualified, so you can be assured of top quality work on every job. In addition to the convenience of our services, you will be getting the most competitive pricing in the market. Also, we promise not to oversell or try to fix things that don't need to be done. We understand the economic situation of our clients and know that auto repairs often seem to come at the worst possible time. You, as our client, are the most important person to our company, so we treat you with utmost respect and regard you as part of our team. So much of our business is built on word of mouth and referrals. We charge fixed prices for any auto repairs in Glendale or the Phoenix Metro area. Fixed pricing means that if it takes us longer to do a job because we are not in a traditional auto shop you will still end up paying the same. The other benefit to you is that we normally can get your car fixed faster than a non regular mechanic with a line of cars waiting to be worked on. You get quality, speed, convenience and value. We save you the time and cost of towing your car to the shop.
All of our mobile auto mechanics are highly qualified.
Our technicians have been ASE certified and have proven themselves through years of working on vehicles. In addition, we provide on going on-job training. This ensures that the technician working on your car is up to the task. We stay up to date on the latest issues or problems that particular vehicles seem to be more prone to. Therefore, for any type of car you drive or repair you require, we can assure you will be satisfied by with our work.
Fully Insured
In addition, Mobile Car Dr is fully insured. If you are thinking of hiring a different mobile mechanic, please ask if they carry insurance. Most of them just rely on not making mistakes as their insurance. We hear horror stories all the time and go out to fix the work of plenty of back-yard-mechanics running around town. When you hire us, you can have peace of mind that you are hiring a legitimate company.
Questions to ask to make sure you are hiring legitimate mobile auto repair service:
Do you take Visa/Mastercard?
Do you service air conditioning units?
Do you have shop keepers insurance?
Are you a member of the BBB?
Do you have all the tools for the job?
Tools for the job
You will know we are serious about fixing your car when we show up in a fully wrapped service van or truck. They are outfitted with all the tools to repair gas and diesel vehicles as well as fix many issues for doing mobile RV repairs.
Promptness and Reliability
We understand that your car repair needs cannot wait. If you are looking for the best mobile mechanic from Mesa, AZ to Glendale or anywhere in between, then give us a call. When you contact us, we can either set an appointment and meet you at a specified time, or we can normally get to you by the end of the day. Our crew is always ready to help. We are available six days a week from 8am to 8pm. You can get in touch with our car repair experts any time of the day be assured that we will be at your location as quickly as possible. When our technicians arrive, they will diagnose the issue, let you know what the problem is and get to work on solving it.
Contact us for all your auto repair needs, and you will not regret your decision. (602) 903-3737