Call the best Mobile Mechanic in Scottsdale
There are many situations in which you may want to consider using mobile auto repair. Many times individuals simply do not have the time or the inclination to wait around in an auto shop for parts to be ordered, or for their car to be fixed. In today's busy world, we all have important places to go and lots to do. Waiting around for a tow truck to take your vehicle to a shop and then getting a ride home and back and forth to work can be a nightmare. Vehicle repairs and maintenance is often just not on the agenda. Using a Scottsdale mobile mechanic lets you have the convenience of licensed and insured technician come to you. We fix vehicles on the side of the road, in driveways, at your place of business or where ever you broke down or need help.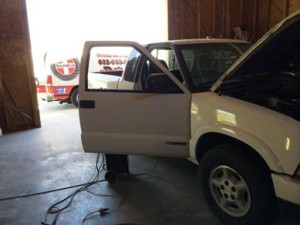 These are the great things about these mobile auto repair companies and reasons why individuals should consider using them the next time their car needs serviced. As anyone who has ever broken down knows, it is usually a 60-90 minute wait or more in order to get towed to a shop, and then another few hours of waiting for your car to be repaired. If you are lucky enough to find a garage that isn't too busy and has the part.
Are you getting ready for an out of town trip and want to make sure the car is road worthy? Call us and we will come make sure your vehicle is ready for the trip. Are you considering buying a used car and want to make sure that you are getting what you are paying for and won't end up with costly repairs? We help used car buyers make more informed decisions. This service often helps our clients to negotiate a better price, or avoid buying something that will soon cost a pretty penny to fix. Do you have a car or RV that has been parked for a while and want to get it running again? We often find ourselves working on vehicles that have been sitting a while. Sometimes it may just need a new battery and/or some fluids. Sometimes your vehicle may need a little more to get up to speed again. What ever the issue, a battery, a fuel filter, a fuel pump, or some old spark plugs, we can help.
Perhaps you have a BMW or Mercedes that just needs to have the brakes changed? Taking a vehicle to the dealer for simple maintenance can be extremely costly. We often save our clients a few hundred dollars off of what the dealer would charge, even if the vehicle is under warranty. And with RVs, we can often do work under the manufacturers original warranty right there on the spot.
Give us a call and have an honest professional mechanic come to you for all your vehicle repair needs.