RV Repairs and Maintenance
Are you experiencing electrical issues with your Motor coach or 5th wheeler? Stay put, we will come to you to diagnose and fix the problem. Not sure why your RV is sputtering, leaking fluid or just won't start? Skip the hassle of an expensive tow by calling our mobile RV repair technicians to pin point the problem in a timely fashion and get you on your way once again.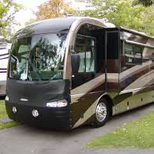 Traveling across the state or country in an RV gives you the freedom to explore new places and enjoy all the open road has to offer. Sometimes enjoying the open road means taking unexpected roadside pit stops. When problems with your recreational vehicle or camper arise it is important to have a mechanic you can trust. We have done work with Sam Goody, All State and Camping World as well as helping out many individuals throughout Phoenix and the surrounding areas. If your insurance provider is having a tough time finding someone to come out, you might want to suggest Mobile Car Dr. to them.
Instead of a lengthy stay with a mechanic that isn't equipped to work on your recreational vehicle or the costly expense of getting a tow, our certified RV mechanics can come to you. We work on-site to get you moving again as quickly as possible for all types of service needs. Along with our expert service we provide an array of repair options. Often, RV repairs are too big to complete outside of a shop. It is very normal for us to go out when a slide out is stuck. Sometimes we can solve the problem and sometimes we just get it to a point that the vehicle is drivable. For many situations we can completely take care of the problem where ever you are. We replace fuel pumps, fuel filters, do ac work, and many other repairs with one call. We have relationships with the RV parts suppliers to get the highest quality service parts whether your recreational vehicle is a type A, B, or C.
Is your RV still under warranty?
We can do warranty work for most RV manufacturers. Please make sure to verify with us when you call so that we can take care of the paperwork for you.
Thinking of buying an RV?
Need an expert to provide a pre-purchase inspection? Our mobile RV mechanic will meet you and help inform you about the choice you are about to make.
Maintaining your RV before leaving town
We want your trip to go as smoothly as possible. It may be a good idea to have a technician come change the fluids, brakes, and do an overall inspection before you head out of town. Proper maintenance is crucial in order to get the maximum life and enjoyment out of your motorhome, camper, trailer or toy hauler. Protect your investment before it is too late.
We are happy to provide the best service wherever the AZ road takes you.