Pre-Purchase vehicle inspection:
If you are buying a used car it is a good idea to go through it thoroughly before you make the buying decision. This can save you a ton of money in several ways.
This may save you from buying a bad car.
This may save you from unexpected repair bills.
This may allow you to ask for more money off of the purchase price.
If the owner objects to having a mechanic look at the car, that should be a red flag. We have met customers from at car lots and at individual residences. Sometimes we recommend against buying a vehicle. Sometimes we help buyers negotiate a better price.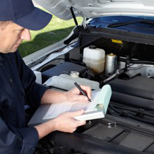 Sometimes we go inspect a pre-owned or classic car for a buyer in another part of the country. Whatever your situation is, having a professional pre-purchase used car inspection service done is a very wise decision. It will help you know that you are getting a good new car.
We can often do a used car inspection on the day of the phone call, but we are often very busy. It is better, whenever possible to schedule an inspection with as much notice as possible. We realize that you will be coordinating with the buyer, the mechanic, and your own schedule, so we try to be as flexible as possible. If you have any questions or would like to set an appointment, give us a call today:
Sometimes people like to check out a vehicle before they invest money on meeting a mechanic. Here is a list of things we will check, and you can easily check yourself.
The exterior of the car:
Tires:
Brand: Are they a reputable brand? Are all four the same brand?
Wear: How soon will you need to replace them? Are there cracks, scrapes, gauges, bubbles? Is there even wear or are the outsides worn unevenly?
Spare tire: Is it there? Is the jack and all of the tools to remove the tire properly secured?
If they are custom rims, there may be a special key to the lug nuts. Is it in the vehicle?
Windows:
Do they all roll up and down? Do the motors seem to be slow?
Are there any cracks or chips in the windshield?
Are the wiper blades operational? Quality?
If there is tint, is it bubbling, purple, or scratched?
Body:
Does the paint color match all the way around?
Are the lines of the hood and trunk line equal on both sides?
Does the hood and trunk open and close the way they should?
Does the hood and trunk stay open properly?
If is has been recently painted was it to conceal something? (Rust or an accident)
Interior:
Smell?
Gauges all work?
Dashboard warning lights?
Heater and Air conditioning?
Wiper fluid?
Radio and speakers? Car alarm?
Are there and rips in the seats? Broken springs, lumbar?
Do the seats move and adjust properly?
Do the seat belts all work?
Headlights, high beams, blinkers, flashers, horn?
If there is a sun roof, is it working properly?
Glove box, car manual, records?
After you have checked off the easy stuff, it is time to get into the engine, the way the car drives, shifts, steers, brakes, and bounces (or doesn't).
If the car has been stationary for a while, you can check to see if there are any leaks under the car.
Another benefit to having us come check out a car before you buy it is that if it does need a repair, we can often give you an idea of what that will cost.
For more info check out http://www.dmv.org/buy-sell/used-cars/used-car-work-sheet.php#Engine